Golem
ISBN: 068813811X
Publication Date: 1995-10-01
In Prague a long time ago, there lived an emperor who believed in magic, and a rabbi who, it was said, could perform miracles. The emperor presented the rabbi with an antique spoon, but neither could foretell how the rabbi would one day use it.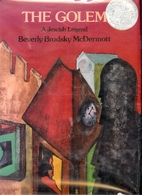 The Golem
ISBN: 0397316747
Publication Date: 1975-04-01
Golem
ISBN: 0395726182
Publication Date: 1996-10-18
Retold from traditional sources and accompanied by David Wisniewski's unique cut-paper illustrations, Golem is a dramatic tale of supernatural forces invoked to save an oppressed people. It also offers a thought-provoking look at the consequences of unleashing power beyond human control. The afterword discusses the legend of the golem and its roots in the history of the Jews. A Caldecott Medal Book.
The Koran interpreted
ISBN: 0199537321
Publication Date: 2008
Aladdin and the Enchanted Lamp
ISBN: 0439692555
Publication Date: 2005-04-01
The Whitbread Award-winning author of THE GOLDEN COMPASS turns on an enchanted lamp of a story -- brilliantly written, sparklingly funny, and guaranteed to reveal wonders. Philip Pullman garnered every accolade around with the breathtaking His Dark Materials trilogy. Now he turns his storytelling gifts to one of the most famous of the Arabian Nights tales, "Aladdin and the Enchanted Lamp." Aladdin is a shiftless good-for-nothing boy until he unwittingly acquires a magic lamp inhabited by a genie -- and the adventure that follows both makes his fortune and makes him a man. Pullman tells the tale with his trademark crisp writing and fast-paced action, while Sophy Williams's pastels shimmer with the heat and beauty of the Far East. Terrific for reading aloud!
Aladdin and the Wonderful Lamp
ISBN: 0590416790
Publication Date: 1989-10-01